Testimonials
Click on small image to see a larger version
---
Cameron Constructors has repeatedly provided me with
outstanding service and support. My work with them has extended throughout the last year. The projects have included a very involved 5000 square foot exhibit renovation, a second floor infill job and the installation of a ceiling deck and vapor barrier solution. The professionalism, quality of work and timeliness in completing these projects are traits that make working with them and exceptionally positive experience. I look forward to many more years of working with them. Sincerely, Joseph Brown Technical Director/Sr. IT Architect/Project Management IBM ThinkPlace Exhibit
---
This email is a bit overdue, but I wanted to follow up and let you know how much I appreciated the work that was done recently here at Contemporary Resort for the Front Office.
Your employees were very quick to respond and very flexible in working with us for the quote and to meet a rushed timeline. Because minimal guest impact is the most important factor, Craig was able to speed up the timeline for the work that was done on both the concierge storage room and our Group Reservations office.
While the work was being done on the 14th floor storage room there were some setbacks caused by work that was happening above the room they were working on, and your team remained flexible and still finished in the original timeline in spite of the double work and timing set back.
I really appreciated the work that was done for the Group Reservations office. Craig and the other different contractors that came and went to complete that job were very conscientious, by putting down paper on the walkways to avoid tracking sheetrock dust, paint, etc. on the existing carpet and left everything cleaned up behind them. I also appreciate that Craig took the initiative to rearrange some things to make the work space more efficient. The painters that came to touch up were very friendly and worked quickly and efficiently while everyone was working around them.
Have a great weekend.
Regards,

Anna -

Disney's Contemporary Resort
---
"We would like to express our thanks to Cameron Constructors, Inc. for the great care you and your employees took while working around our various animals and birds during our recent renovations. We are extremely grateful for your ideas, design, quality of construction, daily communication with our handlers and keeping everything clean and safe for our little friends" - Gary Gero's Birds & Animals Unlimited - Dave, Rich and Brittany.
We completed the MK Cosmic Rays project ahead of schedule
and the ribbon cutting ceremony was on Friday. The owner's response was "Wonderful job!!!! The cast are raving on how well it looks. Thanks for working thru all of the issues and keeping the restrooms open during the construction. Your guys were great to work with. You can tell they love what they are doing and are very passionate about there work". - Donna C. - Sr. Planner
Jim - I really appreciate the work you and your team did, as well as the excellent responsiveness and communication throughout. I sent a note to Neil thanking him for the recommendation - you guys are great. Pls pass on to your team. Best, Michael C.

"Thank you, Jim, for doing such a great job on my recent renovations. I appreciate the quality of work that you did, as well as how you took care of every single detail. I felt like you did the work as if you were doing it for your own house. I'm so thankful to have a trustworthy person to call when I need work done in the future" - JoEllen W. - PM

Good Morning Neil! Hey, I just wanted to say thank you for referring Jim Cameron to us. We had him fix our roof leak by replacing the chimney boards and flashing, put some tile down in the house and clean our back porch. They did awesome and gave good advice about other things to improve issues we had. Great people, the best we've ever worked with over the years. Thanks again for referring him to us and we'll definitely use him to refer to others. Have a great week!
JIM M.
---
MarketVision/Gateway Research, Inc.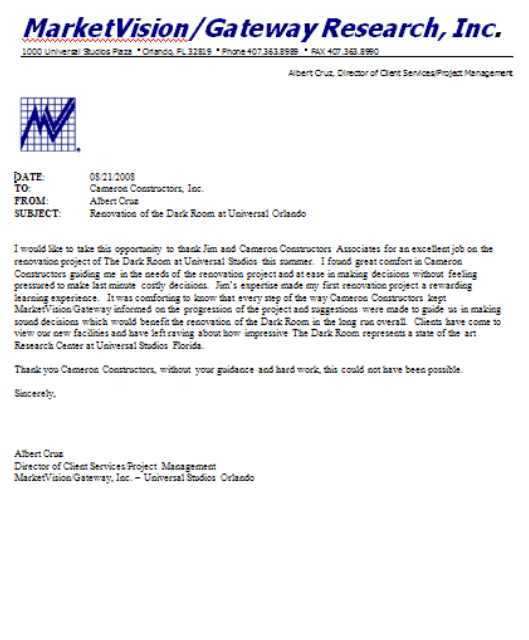 1000 Universal Studios Plaza
Orlando, Florida 32819
Renovation of the Dark Room at Universal Orlando
To whom it may concern:
I would like to take this opportunity to Thank Jim and Cameron Constructors Associates for an excellent job on the renovation project of The Dark Room at Universal Studios this summer. I found great comfort in Cameron Constructors guiding me in the needs of the renovation project and at ease in making decisions without feeling pressured to make last minute costly decisions. Jim's expertise made my first renovation project a rewarding learning experience. It was comforting to know that every step of the way Cameron Constructors kept MarketVision/Gateway informed on the progression of the project and suggestions were made to guide us in making sound decisions which could benefit the renovation of The Dark Room in the long run overall. Clients have come to view our new facilities and have left raving about how
impressive The Dark Room represents a state of the art Research Center at Universal Studios Florida.
Thank you Cameron Constructors, without your guidance and hard work, this could not have been possible.
Sincerely,
Albert Cruz
Director of Client Services/Project Management
MarketVision/Gateway, Inc. - Universal Studios Orlando
---
The Spencer Design Group

301 N Ferncreek Ave Suite C
Orlando. FL 32803
407-896-1334 - www.thespencerdesigngroup.com

To Whom It May Concern:
I have had the fortunate opportunity to work with Jim Cameron for the past several years. I have worked with Jim in design development and construction on numerous projects that have been both difficult and challenging at times. Jim proves his knowledge and expertise in the field with his on the spot resolutions to difficult situations and challenges. I am writing this letter because I feel that Jim's strong work ethic, supportive attitude, and team synergy has been a positive impact on all around him. He will contribute insight and efficiencies to any project he is on.
Jim is extremely proficient and applies that proficiency to solve problems. For instance, recently we had a small emergency and needed an answer from a client's project manager on a job site, the project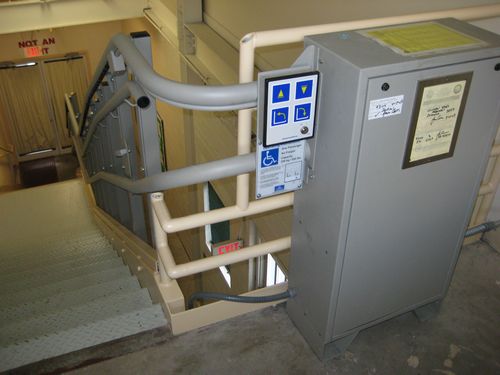 manager did not quickly answer the question so Jim immediately came out to the job site and gave us the answer we needed. His expertise bridged the gap between our drafting team and the customer to solve this specific issue. Jim's attitude was that he wanted to do the things that would help others perform their roles and he accomplished that in stellar fashion. Due to his knowledge of the City's and County's rules and regulations, construction design, vendor resources, and his problem solving ability, Jim is well equipped to all types workflow and construction issues.
As a major player on the projects that we are involved in together, Jim is extremely supportive and he is protective of the team's interests and safety and keeping the clients first. Jim is pleasant to work with, communicates well, and no matter how busy he is, always has time to discuss issues with others. I would fully recommend Cameron Constructors, Inc. on any project for your company.
For specific questions or any other needs please feel free to contact me at any time.
J. Frederick Spencer A.I.A.
---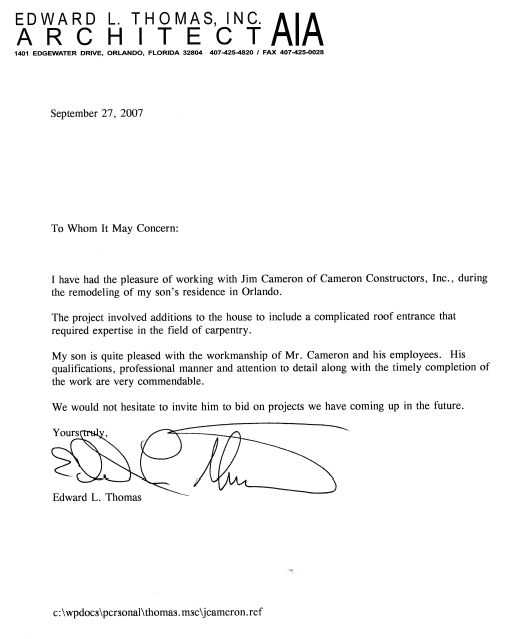 September 27, 2007
Edward L. Thomas, Inc. Architect - AIA
Florida Licenses #AR0003348 and #AAC001715
1401 Edgewater Drive
Orlando, Florida 32804
To Whom It May Concern:
I have had the pleasure of working with Jim Cameron of Cameron Constructors, Inc., during the remodeling of my son's residence in Orlando.
The project involved additions to the house to include a complicated roof entrance that required expertise in the field of carpentry.
My son is quite pleased with the workmanship of Mr. Cameron and his employees. His qualifications, professional manner and attention to detail along with the timely
completion of the work are very commendable.
We would not hesitate to invite him to bid on projects we have coming up in the future.
Yours truly,
Edward L. Thomas AIA
407-425-4820 / FAX 407-425-0028
---
Monterey Mushrooms, Inc.
5949 Sadler Road
Zellwood, Florida 32798
407-905-4032
To whom it may concern,
In my previous employment I was with Universal Studios for 16 years and had the pleasure to know and work with Jim Cameron. Jim has completed several complicated projects for me over the years that needed special attention as in hours of operation and clean up before park opening, he always seemed to know what needed to be done and produced nothing but quality work. From estimating to completion, Jim followed through every little detail and made sure it was exactly what we were looking for. Jim's dedication to detail and expert service procedures has led me to seek him out as he changed his employment with different companies. Here at my new position, I found Jim and have issued Purchase Orders to commence work on several large scale projects that I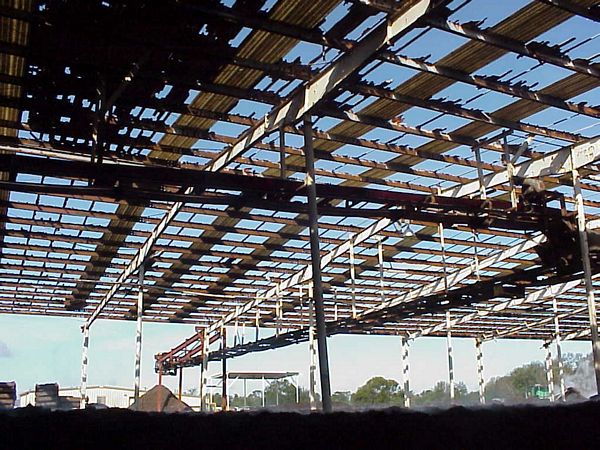 have going on. I have no doubt that these projects will be completed professionally, on time and within the scope of worked agreed upon. I highly recommend Jim and I plan utilizing his skills in future projects here. If you would like any further information that I may be able to provide, please feel free to contact me at the above number.
Thank you,
Joe Tofuri, Maintenance Manager
---
Universal Studios
Subject: Outstanding Performance
Thanks for a Job Well Done for the following projects:
Ripsaw Falls Rehab
Hulk Queue Rehab
Spiderman ADA Ramp
Captain America ADA Ramp
One Fish, Two Fish Plumbing Rehab
These projects required tight schedules, and in some cases, I am sure the schedules seemed unrealistic. Your "Can Do" spirit in accepting each challenge was greatly appreciated, which has certainty been a positive avenue to express the professionalism you displayed working around the clock.
There is no doubt that Planned Work will continue to grow with leaps and bounds, enabling organizations such as yours, to grow with us and be a part of our future.
Congratulations on a Job Well Done!
Donald R. Holton, Jr.
Supervisor, Planned Work
Universal Orlando
---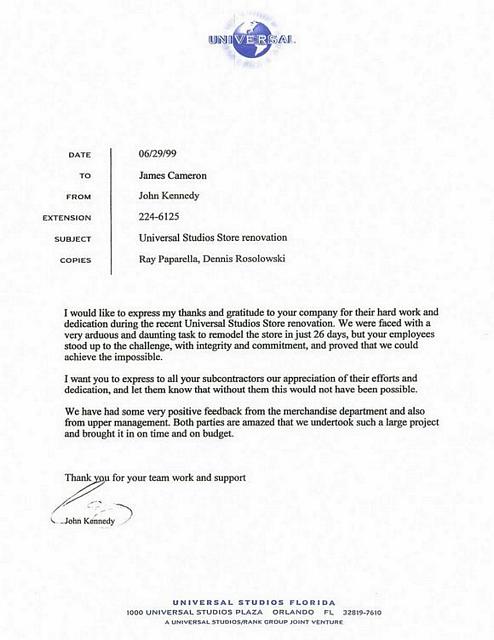 Universal Studios
Subject: Universal Studios Store Renovation
I would like to express my thanks and gratitude to your company for their hard work and dedication during the recent Universal Studios Store renovation. We were faced with a very arduous and daunting task to remodel the store in just 26 days, but your employees stood up to the challenge, with integrity and commitment, and proved that we could achieve the impossible.
I want you to express to all your subcontractors our appreciation of their efforts and dedication, and let them know that without them this would not have been possible.
We have had some very positive feedback from the merchandise department and also from upper management. Both parties are amazed that we undertook such a large project and brought it in on time and on budget.
Thank you for your teamwork and support,


John Kennedy
---